What Ingredients are in LeptiSense?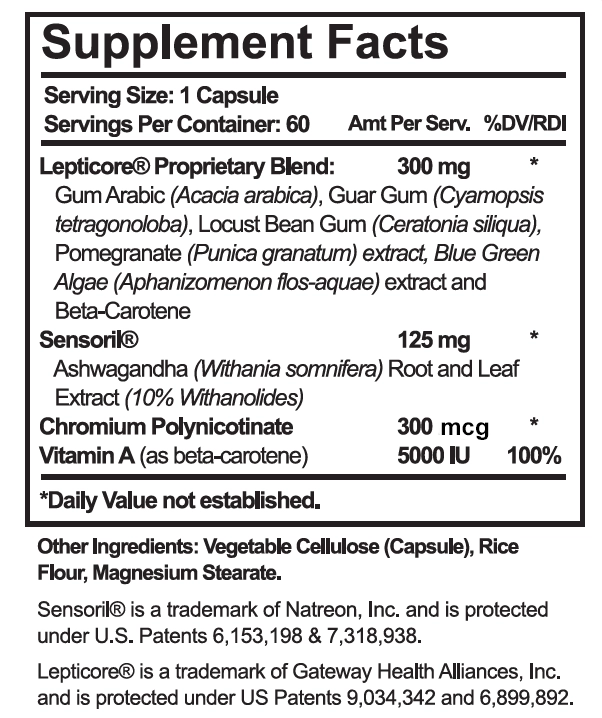 When will my order arrive?
As today inventory is available and when you order now, you will instantly receive an order confirmation email. We work hard to get your order out the door and to you as quickly as possible!

We will ship your order directly to your home or office using a carrier such as UPS and you will have it within 4 to 8 business days of placing your order. Products are shipped from St. Louis, MO, USA and we will send you a shipment notification email with tracking number as soon as your order ships so that you can track it right to your door.
What is the refund policy?
For US/Canada Returns:

You may return any product sold by JayLab Pro, Inc. within 60 days of the date of delivery for a refund (shipping fees are non-refundable). Only two opened bottles from a multiple bottle order will be accepted for full refund within the 60 day allowance, the rest must be sealed and unopened. If the order is being returned within 30 days of the date of delivery, then only one opened bottle from the same multiple bottle order will be accepted for a full refund.* The cost of return shipping is the responsibility of the customer, and all items should be returned in their original product packaging.

Any package returned as REFUSED (meaning you do not open the package and do not pay the shipping fees to send it back to us) will be charged a refusal fee of 10% of the order amount which will be deducted from the customer's refund.

Additionally, packages returned as "undeliverable" may be reshipped at the customer's expense. If a package is returned as "undeliverable" and the customer no longer wishes to receive the package, a $9.99 return shipping fee will be deducted from any refund if the address error was the customer's error. If the return was a result of our error JayLab Pro will pay the cost of return shipping plus refund the original cost of shipping.

Please email CustomerCare (@) jaylabpro.com to request a return authorization form and number
Can I restore my metabolism through a diet or special foods?
In short, no. If that was the case, all the diets and fitness programs attempted by millions of overweight people would work, wouldn't it? There wouldn't be so many stories of people who tried one diet or another and failed. And there wouldn't be a need for the dozens and dozens of studies into the impact of leptin, cortisol, and insulin on your health … nor the studies of hormone-balancing ingredients like those found in Leptisense.
Can't I just buy a less expensive form of these ingredients?
You'll be able to find a less expensive form of "Indian Ginseng" found in Sensoril… but you simply cannot find a higher quality, certified potent, certified pure form found in Sensoril.

And as for Lepticore with its PEA and mix of high quality, plant-based micronutrients and antioxidants? It's only available as the proprietary, quality-ensured combination found in Leptisense.

But let's be honest here …

Aren't you worth more than bottom of the barrel, expired ingredients for the sake of saving a few quarters?

Isn't your long-term savings of the costs of lifestyle health conditions worth the investment of $0.99 cents a day?

I think so, which is why your best bet is to take advantage of the special offer for Leptisense extended to you right now.
Can I take this while on a diet or exercise program?
Yes! As mentioned, Leptisense enhances what you're doing, making any diet or exercise program more effective. Which is why adding in the Body Reset program to your order today is a smart move.

However, you don't need to embark on some kind of intense program in order to get results you can see and feel. Which is what makes balancing your metabolism so incredibly powerful.
How soon will I feel the benefits of Leptisense?
Most people start feeling a clearer mind and more balanced moods within the first few days …

… I personally felt it within the first day.

And as for the hunger-reducing effects? Those happened in the first 7 days.

To maintain these benefits, and to see improved hunger/fullness signals, better sleep, decreased stress levels, and steady weight loss, you need to give Leptisense at least 90-120 days, which is only fair …

… and one of the main reasons you should take Jayson up on his special Leptisense offer today.
What will happen if I don't balance my hormones?
Honestly, a lot can happen if you don't take action today.

You run the risk of shortening your life by years, if not decades, by putting yourself at risk of heart disease, Type 2 diabetes, and metabolic syndrome.

And even if none of those affect you …

Your blood sugar will still spike and drop, leaving you bouncing between intensely hungry and devastating tired every few hours…

Your sleep will suffer, as you gain more fat around your face, neck, and core …

Your sex life will nosedive, since your metabolism affects all hormones, including the ones responsible for pleasurable sex and enjoyable companionship …

You'll continue to gain unattractive and unhealthy flab around your waist, hips, thighs, arms, and face …

… and your mood will drop like a sinking rock, stealing your confidence and joy with it …

Can you truly and honestly say that ANY of those is acceptable to you?

If not, then you have your answer - Leptisense. And it's backed by Jayson's 180 Days 100% Money Back Guarantee.

And, on this page only, available at an unsurpassed price.

Do it right now ...

You have absolutely nothing to lose but the weight ...

And you have everything to gain …